1/5
Customized Printed Heat Seal Plastic Laminated Funy Pouch For Toy With Hold
$ 0.01 ~ $ 0.10/slice
50000/slice
(Min. Order)
Quick Details
Port:
shantou or shenzhen
Payment:
VISA,MasterCard,Western Union,L/C,T/T
Shipping:
Support Express · Sea freight · Land freight · Air freight
Supply Ability:
600 slice per month
Quick Details
Material

Customized

Thickness

Customized

Design

Free

Packing

In carton

Sample

Available
Product Name

Customized Printed Heat Seal Plastic Laminated Funy Pouch For Toy With Hold

Material

2Layers laminated materials BOPP/CPP ,BOPP/MCPP,BOPP/LDPE ,BOPP / MBOPP ,BOPP/PZG PET/CPP ,PET/ MCPP ,PET /LDPE ,PET / MBOPP PET/EVA

3 Layers laminated materials: BOPP/MPET/LDPE , BOPP/AL/LDPE , PET/MPET/LDPE , PET/AL/LDPE , PET/NY/LDPE Kraft Paper /MPET/LDPE

4Layers laminated materials: PET/AL/NY/LDPE

Feature

Environmental Protective, Excellent barrier property, Eye-catching Printing

Usage Field

Snack,milk powder,beverage powder,nuts,dried food,dried fruit,seeds,coffee,sugar,spice,bread,tea,herbal,wheat,cereals, tobacco,washing powder,salt,flours,pet food,candy,rice, confectionaries etc

Other Service

Design creation & adjustment.

Free Samples

Various types are available with freight collect

Note

1)We will offer you price referring to your detail request, so please kindly inform us of the material,thickness,size, printing color and other requirements you prefer,and the special offer will be given. If you don't know detail information, we can give you our suggestions. 2)We can supply free similar samples, but exact sample fee required.


Film Structure

Packaging Properties

Common Application

NY/PE

Excellent low temperatureresistance

Frozen Foods

Good moisture barrier

Meat products

Good high temperature applications

Liquid products

Suitable for vacuum applications

Snacks

PET/AL/NY/PE

Excellent moisture barrier

Liquid products

Tough and high impact resistance

Pet food

Exellent light and aroma barrier

Curry & high acid peoducts

PET/NY/CPP

High temperature end-use

Prepared food

High chemical and oil resistance

Precessed meat

OPP/PE

Superior moisture barrier

Soup

Excellent oxygen and light barrier

Instant foods

PET/PE

Superior moisture barrier

Versatile for different food products

Rice derived products, Snacks, Tea, Deep fried Products Rice Powder Snacks

Good seal ability and good vacuum retention

Rice

Powder

Snacks

If any problems about the structure, please contact us for the details.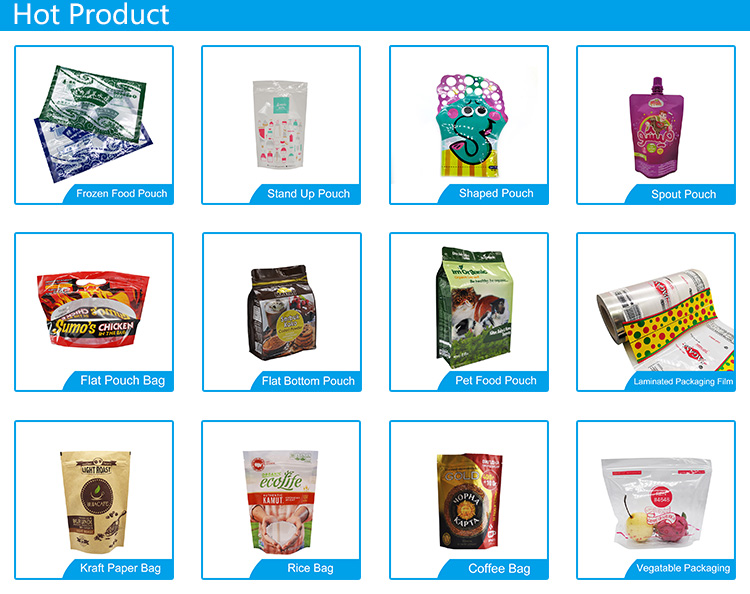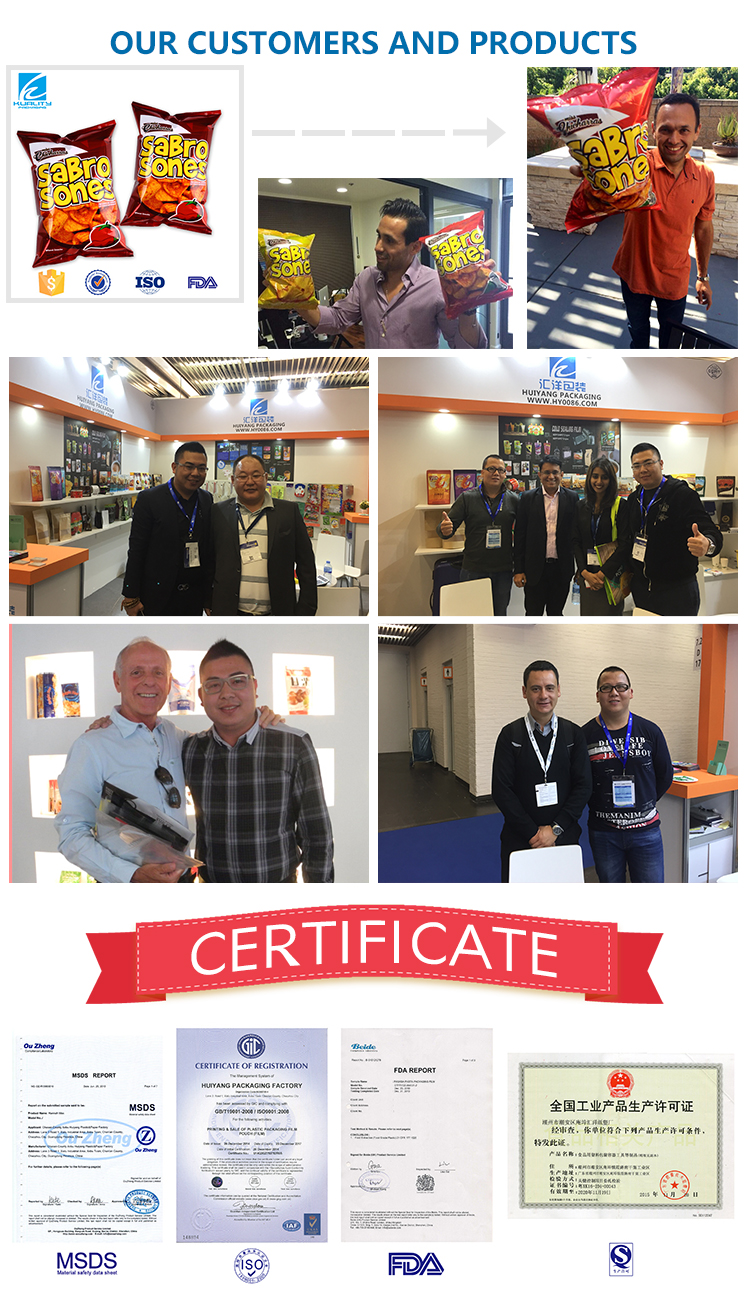 | | |
| --- | --- |
| | Cartons are made from 5-layer corrugated papei which is strong resistance.1 here is a plastic bag in each carton in order to prevent the products dry fromthe wet weather or the carton broken. |
| | Bags are well collected into the carton by bundles in case the bags are scattered when you get them. |
| | Shipping marks are sticked on the cartons for counting. |
| | Cartons are packed by plastid belt in case that the products are broken by punching when they are moved. |

Name:Yion

Moible Phine:+86 17859627646

Wechat:17859627646
Whatsapp:+86 17859627646
E-mail:sales5@huiyangpackaging.com
GUANGDONG HUIYANG PACKAGING CO.,LTD.

Located in Anbu Town,Guangdong Province, GUANGDONG HUIYANG PACKAGING CO.,LTD. specializes in customized flexible packaging film and bags manufacturer and supplier and exporter. We are expertise in export business for many years, Have our own factories. Now we service clients around the world, mainly in America,Australia,Europe, Africa and many other Asian countries.
We introduced the most advanced production line from all over the world, Including high-speed 10 color gravure printing machine, laminating machine, non-solvent lamination machine,bag making machine, slitting machine,the use of an area of 20000 square meters.
We specialize in all types of flexible packaging with different materials tructures and various kinds of laminated film that meet food grade.
When someone says the word "toy"— what do you think of? Child, game, play, FUN? The term "toy" has this sense of excitement, joy associated with it. Then why should its packaging be any different?
Packaging for toys should be as appealing as the toy itself. In an $88 billion industry, this very packaging can be the difference between you and your competition. It can make your toy seem desirable and get it off the shelf, into the hands of children.
Toy Packaging/laminated heat seal biscuit plastic packaging is not a child's play. It's more than just a box.
Like every other industry, the challenges involved in designing packages for toys revolve around three major factors— material, function, and messaging.
You want to pick the right material that offers the desired function and conveys the appropriate message to the target audience, which in this case are children and parents. Let's explore each factor in detail.
Picking the Right Packaging Material
When it comes to the packaging material, the practicality, cost, printing and customization capability, are of importance. The material quality has an effect on consumer perception. You want the package to resonate with your brand image. You want parents to buy the package. If it appears shoddy, harmful, or flimsy, this impression will seep down to that of the product. Parents carefully examine the product based on a manufacturer's display of concern for the end user's well-being.
That's because the consumer is a child.
Parents take certain factors into consideration when picking a toy. And in this decision, the packaging isn't viewed as a separate entity, it's viewed as part of the toy. The packaging material has to look and be
a) child-safe
b) hygienic
c) BPA-free
d) sustainable
e) eco-friendly
To be considered good. Owing to these packaging products such as paper, mono-cartons, cardboard boxes, biodegradable plastics are preferred. You also have to think of the size of the packaging components to determine if there is a choking hazard.