1/5
Food grade custom printed stand up flat bottom pet dog food packaging square bottom bag
$ 0.01 ~ $ 0.10/slice
50000/slice
(Min. Order)
Quick Details
Port:
shantou or shenzhen
Payment:
VISA,MasterCard,Western Union,L/C,T/T
Shipping:
Support Express · Sea freight · Land freight · Air freight
Supply Ability:
600 slice per month
Quick Details
Material

Customized

Thickness

Customized

Design

Free

Packing

In carton

Sample

Available
Product Name

Food grade custom printed stand up flat bottom pet dog food packaging square bottom bag

Material

2Layers laminated materials BOPP/CPP ,BOPP/MCPP,BOPP/LDPE ,BOPP / MBOPP ,BOPP/PZG PET/CPP ,PET/ MCPP ,PET /LDPE ,PET / MBOPP PET/EVA

3 Layers laminated materials: BOPP/MPET/LDPE , BOPP/AL/LDPE , PET/MPET/LDPE , PET/AL/LDPE , PET/NY/LDPE Kraft Paper /MPET/LDPE

4Layers laminated materials: PET/AL/NY/LDPE

Feature

Environmental Protective, Excellent barrier property, Eye-catching Printing

Usage Field

Snack,milk powder,beverage powder,nuts,dried food,dried fruit,seeds,coffee,sugar,spice,bread,tea,herbal,wheat,cereals, tobacco,washing powder,salt,flours,pet food,candy,rice, confectionaries etc

Other Service

Design creation & adjustment.

Free Samples

Various types are available with freight collect

Note

1)We will offer you price referring to your detail request, so please kindly inform us of the material,thickness,size, printing color and other requirements you prefer,and the special offer will be given. If you don't know detail information, we can give you our suggestions. 2)We can supply free similar samples, but exact sample fee required.


Film Structure

Packaging Properties

Common Application

NY/PE

Excellent low temperatureresistance

Frozen Foods

Good moisture barrier

Meat products

Good high temperature applications

Liquid products

Suitable for vacuum applications

Snacks

PET/AL/NY/PE

Excellent moisture barrier

Liquid products

Tough and high impact resistance

Pet food

Exellent light and aroma barrier

Curry & high acid peoducts

PET/NY/CPP

High temperature end-use

Prepared food

High chemical and oil resistance

Precessed meat

OPP/PE

Superior moisture barrier

Soup

Excellent oxygen and light barrier

Instant foods

PET/PE

Superior moisture barrier

Versatile for different food products

Rice derived products, Snacks, Tea, Deep fried Products Rice Powder Snacks

Good seal ability and good vacuum retention

Rice

Powder

Snacks

If any problems about the structure, please contact us for the details.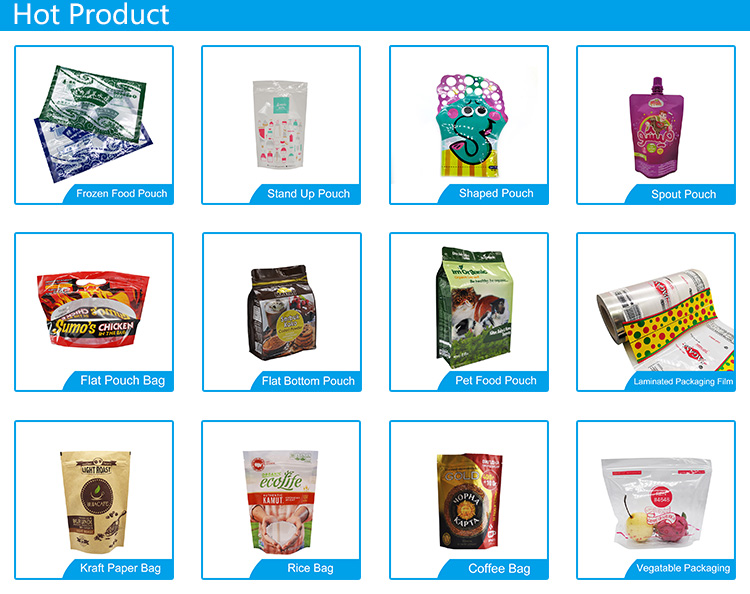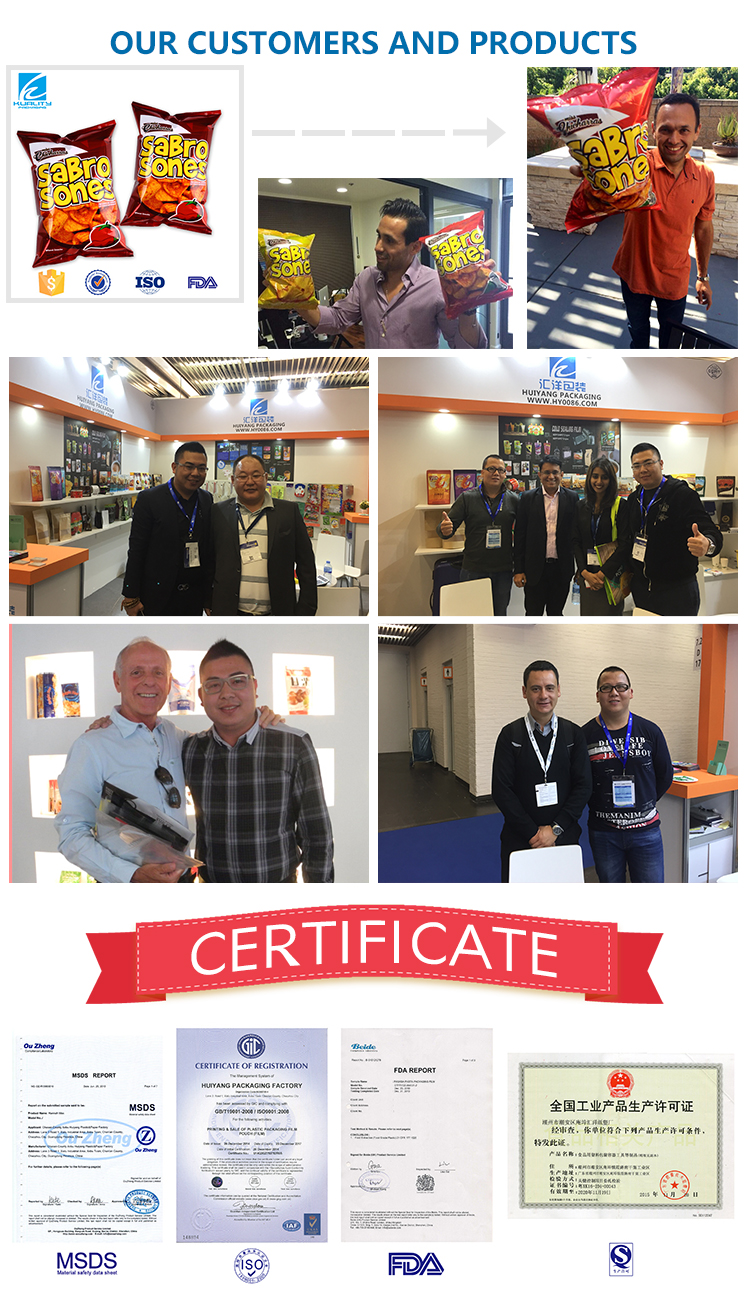 | | |
| --- | --- |
| | Cartons are made from 5-layer corrugated papei which is strong resistance.1 here is a plastic bag in each carton in order to prevent the products dry fromthe wet weather or the carton broken. |
| | Bags are well collected into the carton by bundles in case the bags are scattered when you get them. |
| | Shipping marks are sticked on the cartons for counting. |
| | Cartons are packed by plastid belt in case that the products are broken by punching when they are moved. |

Name:Yion

Moible Phine:+86 17859627646

Wechat:17859627646
Whatsapp:+86 17859627646
E-mail:sales5@huiyangpackaging.com
pet dog food packaging square bottom bag/printed stand up pouch bag
It is no secret that the pet industry is booming and will continue to rise. Pets today are considered more and more as family members and pet owners want to purchase only the best for their beloved animal companions.

Pet food packaging is no longer regarded as an afterthought, as trendy, user-friendly packaging is quickly taking over the pet food market. Increasing consumer demands are motivating the specialty pet food market to expand and diversify its packaging options. Traditionally, animal food and associated products have been packaged in large boxes, flimsy bags, or rigid canisters. Innovations in flexible packaging solutions such as re-closeable bags and pouches, have propelled the pet food packaging market substantially.

Flexible pet food packaging, like stand pouches for pet treats, is still a relatively new concept in the United States. New developments overseas have pushed flexible packaging to the forefront, making it the preferred choice for highly influential modern brands across the globe. Companies that utilize intriguing, fashionable packaging that is sleek and highly functional are drawing in new customers and reshaping the marketplace in exciting ways.

More and more pet businesses are using unique packaging styles for their food and treats because they stand out from the competition and draw in consumers. New pouch styles can be custom tailored to fit nearly any size product while keeping air out, prolonging the shelf life and freshness of the food inside. Utilizing these inventive types of all-in-one packaging cuts down on waste while providing a strong but pliable barrier that maintains the quality and integrity of the pet food. Stand-up pouches help the consumer fill their kitchen pantries with product that can be stacked neatly in a row for easy access and reuse at a moment's notice.

As pet food store shelves become more and more crowded, having stand-out and convenient packaging is more of a necessity than an option. New advancements in pet food packaging coupled with high-end, attention-grabbing graphics, are making purchasing pet food fun in a growing market.